In the spirit of transparency, the following information describes the process of the initial assessment, planning, implementation of creating social media platforms, content, and a "website reveal event" in collaboration with Michael Cross, a beloved local musician, who is considered part of the bedrock and foundation of live music in Austin, Texas. This is a recap of that decision-making process.
Interview
An initial interview was conducted to ascertain Michael's Cross's initial social media needs. Michael had a personal Facebook page and a number of older one-page websites. It was determined that a WordPress content management system, a blog, a Twitter page, a Facebook business page, and at least one promotional interview video  (Camtasia 9)  would be suitable to begin to amplify Michael's brand. This would allow Michael to connect successfully with different audiences that were spread across several different projects, with the idea of bringing his fans and fellow musicians together under one hub, provide venue owners a reference point regarding Michael's vast fan base cultivated over many years of an illustrious music career.
By building an online social media presence aside from a personal Facebook page, this would allow Michael to:
connect and consolidate successfully with different audiences spread across several different collaborations
bring fans and fellow musicians together under one hub
provide venue owners a reference point regarding Michael's vast fan base
offer venue owners one user-friendly website they could point fans to for more information
Michael Cross indicated he wanted to unify the "musicdogATX fanbase" and his fellow artists from multiple ongoing collaborations, and share more about his music by highlighting the past/ recent/ future recordings. He also wanted to showcase his talent to the Austin live music venue owners so that prospective employers could verify his following, and they could confidently showcase his talent to their consumers by referring them to a user-friendly website. In this case, and in certain sought-after venues, having a digital footprint and a verified following matters.
Michael also wanted to promote his music as a unique and diverse "Austintacious music experience," that represents the diversity of Austin, that is difficult to compartmentalize or narrowly assign a genre, but undeniably entertaining and appealing to a wider audience.
Goals and Planning
Michael Cross is a multi-talented vocalist, lyricist, musician, and composer. He really does….do it all musically. The goals for his social media platforms are intended to show Michael's versatility, widen the scope of his fan base, give potential employers a broader demonstration of Michael's talent, provide access to his recordings and live gigs to his fans. We wanted to create a one-stop portal where everyone could gain a peek into what can only be described as "a unique day of the life of a dedicated musician living the dream in the Music Capital of the World." Long term goals include the eventual distribution of music and monetizing the site.
Now, we all know websites are designed to accomplish more than giving the existing fan base a central point to connect or enjoy Michael Cross' s artistry. The rationale for this site and his social media campaign are no different.
The goals of the social media campaign are multi-faceted and include:
creating a recognizable logo
highlighting existing recordings, promoting sales, and upcoming events
highlighting the solo talents of Michael Cross, as well as his knack for collaborations
networking with local businesses and venues dedicated to supporting live music in Austin
supporting other fellow musician's artistry and the "Music Capital of the World" in general
encouraging Austin music lovers to continue to support live music
unifying Michael Cross's fan base across multiple collaborative projects
creating a portfolio of Michael Cross's past contributions to Austin's live music culture
maintaining and promoting the local flavor, values, mantras, philosophy, and traditions that are Austin's unique live music heritage
building a brand where Michael can stretch and branch out to new projects which might include developing new talent, recording or producing new music
maintaining transparency, or as Michael described it…. "keeping it natural, keeping it real."
WordPress site: www.musicdogATX.wordpress.com
As Michael Cross gains more momentum by having collaborative tools like a website and other social media platforms, it will make sense for Michael Cross to eventually upgrade his current site to a host server, when he is ready to monetize his site, to distribute products or music, most likely when he records another album. Word is that new recordings are in the works!
#AustinMusic
The ability of anyone who is self-employed knows a digital footprint offers more opportunities for everyone to network and do business. But, is it really worth it to devote so much time and resources?
I believe that it is important to empower everyone to have access to collaborative tools and here is why!
Live music contributes heavily to the local economy in Austin. Promoting a talented musician like Michael Cross to be visible, viable and accessible to his fans and venues stimulates business by drawing customers to businesses that support live music. It ensures that an important part of our local economy that relies upon our treasured tradition of live music in Austin remains sustainable. It ensures Austin remains sustainable.
Check out this article about the struggles facing our live music culture in Austin by Andrew Flanagan @npr.org on 02/24/2017.
"As the face of Austin's music office prepares to depart, the city's problems and successes may offer a lesson for dealing with globalization and technology."
"As Bobby Garza, a former chief of staff to city council member Mike Martinez as well as general manager of the promoter Transmission Events, the company responsible for Fun Fun Fun Fest, puts it: "Music is such an integral part of the cultural fabric here that people assume it's just always going to be here. Part of our challenge as music advocates is to say actually, it might not be."
Nuff said.
A digital footprint means opportunities to collaborate, support product promotion, tourism industry, hospitality, restaurants and ancillary services because music is still big business in Austin. It is all connected. Michael Cross's success will benefit a lot of people!
Everyone needs to have access to collaborative tools to create a digital footprint in order to compete, network equitably and create a sustainable economy. A digital footprint promotes business and it ripples throughout the community. It's that simple.
So much for my soapbox, my passion is to empower others to independently have that virtual voice and the digital footprint that they need to succeed, so we all succeed.
#socialmedia4socialgood
In the next section, check out the design decisions we made to meet our social media goals and how we developed an ongoing game plan for a successful social media future.
Design and Content Choices
Michael Cross and I determined that a free WordPress platform would be best to meet Michael's initial content management system needs while the site was being initially designed. Future evolutions of his WordPress files could be transferred to his own self-hosted WordPress .com domain at a later time, where we could add plug-ins to directly distribute music and monetize the site as the site grows.
In our initial design conversations, we opted to use a Picque WordPress theme (free), as it offered some design options that we were looking for that included:
an expanded menu option
potential to highlight existing video and graphics
user-friendly fonts and color palettes
mobile user-friendly capacity
We chose a darker background with white text for contrast. We created a temporary logo for the musicdogATX community with Adobe Illustrator. We chose images that would showcase Michael's upbeat, fun, spunky, uber-happy spiritual nature, but did not overshadow his innate creative cutting edge, diversified musicianship and lifelong commitment to live music. We chose to highlight existing YouTube videos that showcased past performances and collaborations. We also decided to create an individualized multimedia video to introduce the website and provide a three-part personal introduction video about Michael Cross's music career: Past, Present, and Future.
We designed a WordPress menu to guide the audience to navigate:
Michael Cross's current solo and collaborative recordings
Michael's biography
2017 Events
Connect page
#ThrowBackBluesDay Blog
Portfolio (1 x Projects and Career Highlights)
Collaborations (Ongoing Partnerships)
Image Gallery
We created the social media platforms based on research by listening to the conversation on the Austin music scene. We began following the influencers, partners, and fans of the musicdogATX tribe and creating platforms and lists. We researched information based upon what the conversation was about to create appropriate content for each menu tab or social media channel according to Michael Cross's and his audience's preferences.
We strived to make all Michael's Facebook, Twitter, and Blog pages designed to be consistent visually,  by offering a consistent "look" or branding message without parroting the same information repeatedly.
Twitter: @musicdogATX
We chose to use graphics owned by Michael, donated by fans and fellow artists, or from free sites like Pixabay, including the line drawing for the logo.
@musicdogATX Future
As the platforms were constructed, intermittently Michael received feedback on how to maintain the site going forward so that he remains digitally relevant and independently successful. He was introduced to topics like how to create effective hashtags and titles, making blog post titles more search engine friendly, tags, Google alerts, how to find content, pingbacks, security and so on.
Facebook: MichaelCross@musicdogATX
In addition, Michael was solicited for feedback on design choices and content as they were created and implemented. His opinion and input on design and content choices were consistently sought after.
Now, it's time for your opinion!
Multimedia
We created several videos with Camtasia 9 to give Michael an opportunity to welcome website visitors by sharing a music sample, and we produced a three-part video interview to introduce Michael Cross more intimately to his audience in the about section.
Here is a sample of those videos.
Video Credit: Duane Pool and Michael Cross
Video Credit: Duane Pool and Michael Cross
Tweaking for the Big Reveal
Currently, the website and the social media platforms are still under construction. We are still tweaking the finer points in creating content. Stay tuned for the BIG musicdogATX reveal on June 21st, 2017 when all of the platforms are relatively complete and formally revealed to Michael's audience.
We hope to create an event to showcase Michael Cross's new social media platforms. We are shooting for June 21st, 2017 in conjunction with "Michael Cross Day" that was decreed officially in 2007 by the Austin City Council and former Mayor Will Wynn.
June 21st, 2017 will be the ten-year anniversary of the recognition of all of Michael Cross's contributions to the #MusicCapitalOfTheWorld.
What a great occasion to celebrate a new website?
It's been ten years and there no sign of Michael Cross slowing down any!
Graphic Credit: Duane Pool  Image Credit: Sans -Titre
Here's to the next ten years, Michael!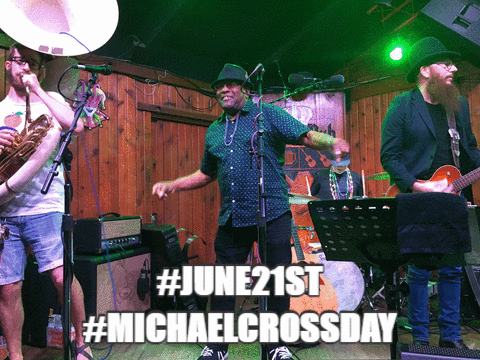 gif format: Duane Pool /Image Credit: David Sumners
Currently, we are not focusing on return on investment  (ROI) or analytics, at least not until after the BIG reveal to Michael Cross's audience, but we are still focused on creating a quality campaign. So far, we have invited 150 people to the new Facebook page with good results. We have 150 faithful followers.
We will need to convey to Michael's fans that not only is it beneficial for Michael's career to follow him on these new platforms, but it also beneficial for local venues and fellow musicians in many ways!
Gif format: Duane Pool
Once the website is revealed, we are eager to get feedback directly from the community and follow the analytics more closely, as the campaign is rolled out officially with a website reveal event. So far, the feedback has been very positive and we are very grateful.
Graphic Credit: Duane Pool Image Credit: Sans -Titre
Take My Word
Or, don't take my word for it, but I recommend that you check out Michael Cross's music and his social media channels out for yourself, and I will guarantee that you won't regret it!
Too much fun!
If you can't make it out to a local venue featuring Mike and friends? Here's a little taste of Michael Cross & the John Gaar Band!
Video Credit: Danviewtube
It's a "sure bet" either way, with that kind of quality music, it's really hard to do anything but smile, sing and clap along!
Now that you know, connect with Michael on his new website to set up a gig for your next event!
Addendum: Michael Cross's new social media platforms were introduced on June 21st, 2017 in honor of "Michael Cross Day" 10th Anniversary event with a short video vignette published online immediately before the event, and a lot of interest was demonstrated by Michael's large fan base!
Here is a montage video of Michael Cross's 10th Anniversary made with Camtasia 9.
Thank You
A special shout out and a big "thank you" to all of the musicdogATX tribe for their contributions and for supporting Michael's developing social media platforms.
In particular, the talents of DanViewTube should be recognized for all of his multimedia contributions to the website, Sans Titre Promotion, David Sensat and David Sumner for many of the images!
Thanks to Andrew Flanagan from npr.org for his insightful and compelling article about the challenges facing live music today in Austin.
Thanks to Michael Cross for the opportunity to flex my muscles as a social media solopreneur by highlighting his amazing career as a valuable contributor to the heritage and tradition of live music in Austin. Sharing information regarding planning and implementing this social media campaign was previously approved by Michael Cross.
Michael Cross is the bedrock of live music in Austin!
#musicdogATX  #ThrowbackBluesDay #KeepAustinWeird  #NeverGiveUp #NMRK
#MichaelCrossDay #10thAnniversary #WebReveal #socialmedia4socialgood
If you or someone you know would like to discuss your social media needs, or chat about creating your social media platforms and campaigns, please connect with me, I will be happy to help you.